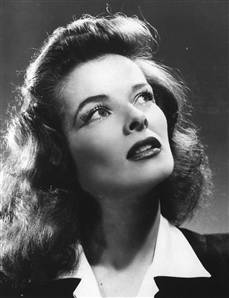 The Hepburn family was connected the Snowden family through marriage. Katharine Hepburn's aunt, Selina Hepburn, married Nicholas Snowden Hopkins who was Major Thomas Snowden's great-great-grandson. Major Snowden's added the two hyphens to Montpelier, the mansion originally built by his father. Katharine Hepburn was aware of her famous family ties and the existence of the family home, Montpelier, in Maryland.
The family relationships between Major Thomas Snowden and Katharine Houghton Hepburn are as follows:
• Major Thomas Snowden married Anne Dorsey Ridgely
• Nicholas Snowden (son) married Elizabeth Warfield Thomas
• Lt. Nicholas Snowden (son) married Henrietta Stabler
• Gerard Janney Hopkins married Emily Roseville Snowden (daughter)
• Nicholas Snowden Hopkins (son) married Selina L. Hepburn
• Selina L. Hepburn was Katharine's aunt on her mother's side.
In the 1980s, Katharine Hepburn visited Montpelier in Laurel, Maryland. Mary Larson, one of the docents, gave a thorough tour of the house, from attic to basement, to Katharine and out to the grounds of the summerhouse. During the tour the two discussed the "Bremen Town Musicians" and could not decide which animals they were. Mary provided the information (donkey, dog, cat and rooster).
Katharine sent a response note to Mary Larson on her Katherine Houghton Hepburn stationary saying, "By jiminy crickets that is service - How angelic of you - Just exactly what I wanted. Thank you very much. Katherine Hepburn. IV.9.1982."
Katharine grew up in Hartford, Connecticut. Her father was Dr. Thomas Norval Hepburn, a surgeon & pioneer in fighting venereal disease. Her mother was Katherine Houghton, a suffragist and strong advocate of birth control. Katharine graduated from Bryn Mawr College in 1928. She was witty and sophisticated, had remarkably high cheek bones and her voice was filled with the vowels of a well-bred New Englander. After graduation she married Ludlow Ogden Smith and convinced him to change his name to S. Ogden Ludlow. The couple were divorced in 1934.
Her first role in theater occurred in 1933 (The Lake), which was a Broadway failure. Reviewing Katharine's role in the play, Dorothy Parker commented that "She ran the gamut of emotion from A to B"!
With persistence her acting career improved and she moved to Hollywood. Her sometimes beau, Howard Hughes, aviator and financial tycoon, bought her the rights to her first successful movie, The Philadelphia Story. Other successful movies were "Bringing Up Baby", "Woman of the Year", "Adam's Rib", "Pat and Mike", "Stage Door", "Holiday", "The African Queen", the 1952 movie, where she played the straight-laced Rosie opposite Humphrey Bogart (Director, John Huston) and "Love Affair", the 1994 movie, where she played Warren Beatty's wise old aunt, giving advice to the woman he loved, Annette Bening.
In all of her movies she played a sharp-witted, sophisticated woman. In a "conversational tone, she had a no-nonsense attitude with disarming candor." Although they never married, she developed a long-lasting professional and romantic relationship with Spencer Tracy. In her movies with Spencer she is "wickedly smart, slightly aloof and emotionally vulnerable." Spencer Tracy is "common-sensical, down-to-earth and deeply decent. He manages to bring her down a peg and she never seems to mind." Apparently they had a mutual understanding and acknowledged each other's personal and professional "boundaries".
Over her professional career, she won a dozen Oscars but never showed up to collect any of them. She wrote an autobiography, entitled "Me, Stories of My Life" (Knopf). In her later years, she lived in the Fenwick Section of Old Saybrook, CT, and retained a town house on 49 th Street in the Turtle Bay section of Manhattan. Almost to the end of her life she played tennis and swam.
She funded the Katharine Hepburn Park on 49th Street in NYC. There you can see her personal sentiments etched as quotations on flagstones:
• "I've always lived my life exactly as I wanted. I wouldn't change a single thing. No regrets."
• "I want to go on being a star. That's all I really know how to be."
• "I have no fear of death. It must be wonderful like a long sleep. But, let's face it, it's how you live that really counts."
On June 30, 2003, this spirited actress died. Known for her independent life, her "strong-willed movie characters made her a role model for women" and "a beloved heroin to film-goers for 60 years."