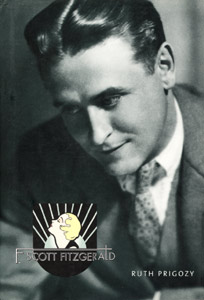 F. Scott Fitzgerald, who graduated from Princeton in 1918, became one of the most beloved writers of the 20 th Century. Considered the "Great American Dreamer", he wrote stories with "epic grandeur" and "elegant style". His books include "This Side of Paradise", "Tender is the Night", "The Great Gadsby", "The Beautiful and Damned", "Love of the Last Tycoon" and "Jazz Age Stories". He married Zelda Sayre on April 3, 1920 in St. Patrick's Cathedral in New York City.
F. Scott was born on September 24, 1896 in St. Paul, Minnesota. He died on December 21, 1940 in Hollywood in Los Angeles, California. Zelda, who was born in 1900 in Montgomery, Alabama, died on March 11, 1948 in Asheville, North Carolina.
F. Scott, known as "Scottie" to his friends, was a descendant of Richard Warfield through the following lineage:
• Scottie was born in St. Paul, Minnesota, to Edward Fitzgerald (1853-1931) and Mary "Mollie" McQuillan (1859-1936).
• Edward Fitzgerald was the son of Michael Fitzgerald and Cecelia Ashton Scott.
• Cecelia Ashton Scott was the daughter of John Scott, Jr. (1789-1840) and Eliza Magruder Key.
• John Scott, Jr., was the son of John Scott, Sr., and Elizabeth Goodwin Dorsey (1769-). They were married in Baltimore, Maryland on May 15, 1788.
• Elizabeth Goodwin Dorsey was daughter to Henry Hill Dorsey (1735/36-1772) and Elizabeth Goodwin.
• Henry Hill Dorsey was the son of Caleb Dorsey, Jr., (1710-1772) and Priscilla Hill (1718-1781). They married in Anne Arundel County on February 10, 1734/35.
• Caleb Dorsey, Jr., was son of Caleb Dorsey, Sr. (1685-1760), and Elinor Warfield (1683-1752). They married on August 24, 1704 in Anne Arundel County.
• Elinor Warfield was the daughter of Richard Warfield, Sr. (born 1646/47 in England-died 1703/04 in Anne Arundel County), and Elinor Browne (born 1649 in Manchester, England-died 1718/19 in Anne Arundel County ).
Richard Warfield was first indentured to a John Sisson, who paid for his transport from England to "The Colonies". In John Sisson's will, dated March 16, 1663/64, he "bequesthed his servant boy Richard Warfield to Cornelius Howard. Warfield completed his service to Howard in 1669. Richard's occupation was a Planter, Captain of the Militia (1689) and a member of the first Vestry at St. Anne's in Annapolis. He owned the "Black Horse Tavern", nine miles west of Annapolis. He held tracks of land named "Wayfield", "Warfield's Right", "Hope", "Increase", "Warfield's Plains", "Warfield's Forest", Warfield's Addition", "Brandy" and "Warfield's Range".
Elinor was the daughter of Captain John Browne. She inherited two adjoining tracts of land, "Hope" and "Increase".